An orchestra for young people focusing on music from well-known film, TV and gaming soundtracks
Suitable for those in Years 6-13. RYSO is open to players of any orchestral instrument, including percussion, grade 4 and above. No audition required.
RYSO Weekly Rehearsals

Autumn 23 first rehearsal is Tues 19.09.23
1830-2030
Waldegrave School 
Fifth Cross Road
Twickenham
TW2 5LH
Our rehearsals are either in the Performing Arts block to the rear of the site or the main hall in the main building:
19.09.23 Performing Arts Theatre
26.09.23 Performing Arts Theatre
03.10.23 Main Hall Main Building
10.10.23 Main Hall Main Building
17.10.23 Main Hall Main Building
24.10.23 half term
31.10.23 Main Hall Main Building
07.11.23 Main Hall Main Building
14.11.23 Performing Arts Theatre
21.11.23 Main Hall Main Building
28.11.23 Main Hall Main Building
Cost for a standard term from Autumn 23 will be £97 per term (this will come under the RMT Activities Passport Level 2)
Register Now to join our weekly rehearsals 
Featuring  music from film, TV, and gaming soundtracks, RYSO aims to bring the traditions of the symphony orchestra (rehearsal etiquette/orchestral techniques/sightreading en masse) to young people in a fresh, enticing way using repertoire which speaks volumes. The beauty of the screen is that music from all genres, classical to contemporary, is used and we intend to cover a range of styles from a wide variety of eras.
RYSO is open to any student from Y6 up to and including Y13 who is of at least Grade 4 standard on their instrument.  We welcome players of all orchestral instruments and there is no audition requirement.
Feel free to contact bethanycalder@richmondmusictrust.org.uk or call 020 8538 3866 for further information before you apply.
Meet our Conductor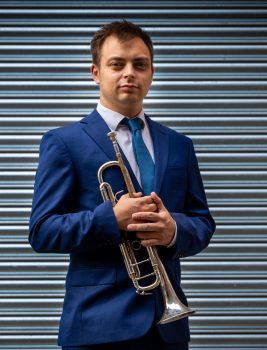 Tom Griffiths began his musical career at the age of 9 playing the cornet in his local brass band and the West Sussex County ensembles. Tom also attended the Junior Guildhall School of Music, where he first discovered his passion for conducting, under the tutelage of Michal Omer. Tom was awarded a place at the Royal College of Music to study a bachelor's degree where he continued to study conducting alongside his main instrument, the trumpet.
As a scholar at the RCM, Tom also went on to complete a master's degree obtaining a distinction. Whilst at the RCM Tom's passion for chamber music led to him becoming a founder member of the highly-acclaimed ensemble Kensington Brass.  Tom is also an alumnus of the European Union Youth Orchestra, having played with the orchestra on their marathon 2016 summer tour under the direction of Vasily Petrenko and Bernard Haitink.
Able to turn his hands to a variety of styles, Tom is fortunate enough to have performed with the National Youth Jazz Orchestra, Zone One Brass, and English Touring Opera, as well as the UK's busiest brass quintet, Oompah Brass.
Alongside performing, Tom is an enthusiastic and committed educator. He currently holds teaching posts at a number of the country's leading independent schools, including St George's School Windsor Castle, Bradfield College and North London Collegiate School. Leading ensembles and coaching have increasingly become central aspects of his portfolio of work.
Register Now