We are delighted to announce that we will be presenting Live at The Exchange on Saturday 26th June 19:15 at The Exchange in Twickenham.
The event will showcase vocal performances from secondary school students from in and around Richmond, accompanied by a band of professional musicians. The set list includes solo and group performances with songs ranging from the music of Carole King to Paramore and we are also privileged to have a number of original songs in the mix, which is very exciting! The event will close with one of our student bands to round off the evening's entertainment.
Many of the performers taking part were due to perform live with us back in 2020 and we have remained determined to make that a reality for them this year. The Exchange is an incredible venue at the heart of the Borough and we look forward to working with them to deliver this event.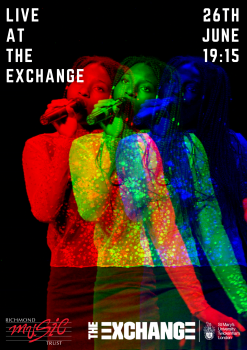 Tickets are now on sale via The Exchange Box Office: https://exchangetwickenham.co.uk/event/live-at-the-exchange/
We are working closely with The Exchange to ensure the performance is carried out safely and inline with the latest Covid-19 guidelines. Please read through the attached guidance before visiting the venue.
Visiting The Exchange: Covid-19 Guidance